Fairfax County Fire and Rescue Department Tysons Truck 429 Scale Model

Add craftsmanship to your collection.
Each of the replica's 587 parts is individually designed, cast or fabricated...then hand-assembled using tweezers, glue-filled syringes, and a steady hand. Materials are chosen to replicate each feature accurately and include stainless steel, high-def resin, brass, wire, rubber and other composites.



A Gem for the Emerald City.
Fairfax County's T429, a Pierce Velocity 100' Tiller, is one of our most complex projects to date. Our goal with each release is to improve in every area...so that our customers will notice something new each time they view the model.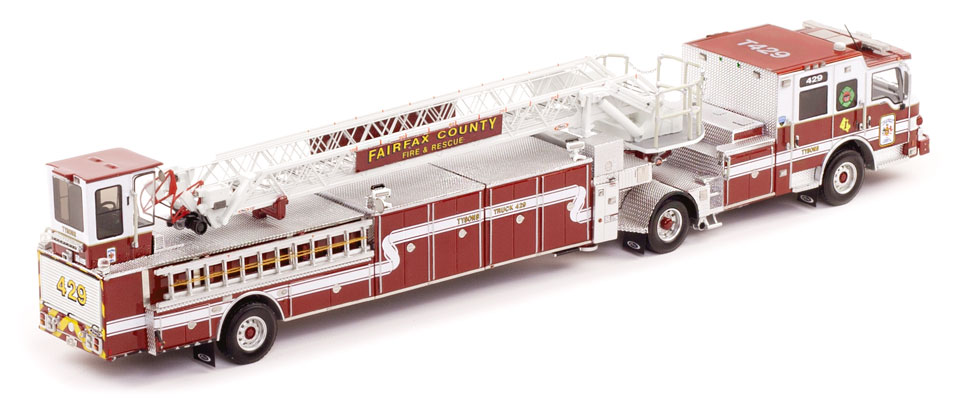 Best 1:50 Scale Truck by Toy Trucker & Contractor.
Tyson's Truck 429 features the 1:50 scale industry's first 0.6mm stainless steel ladder, making it a true-to-scale replica. Countless hours of design, proofing, and improvements were invested over 16 months, ensuring that this replica would be museum grade and award-winning.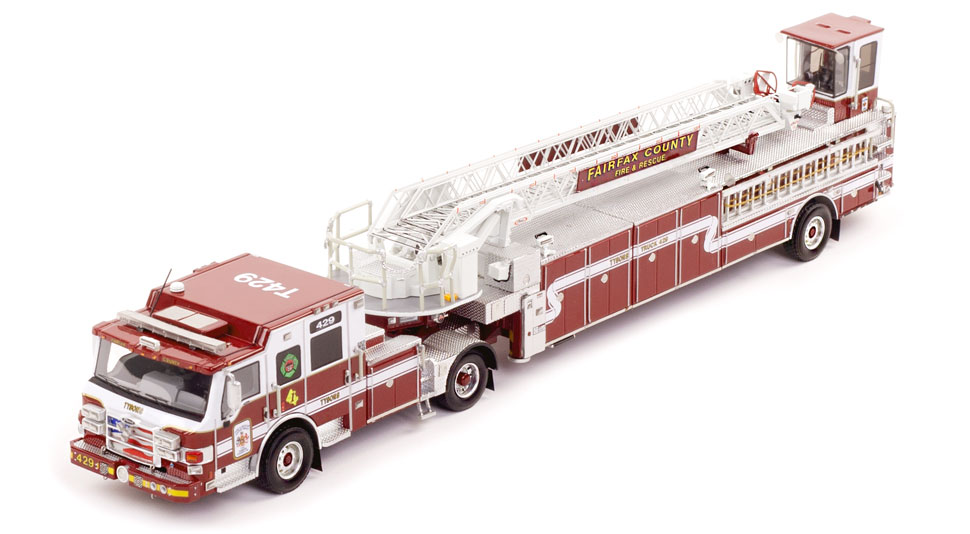 Exclusively limited to 350 units.
Fire Replicas are designed with the elite collector in mind, and manufactured in limited quantities to enhance future value. Fairfax County's T429 will be the flagship for only 350 discerning model collectors.


An impressive TDA deserves a stunning presentation.
T429 measures 14.5"L x 2.5"W x 3"T and is securely displayed inside a custom case. The case dimensions are 18"L x 6"W x 5.25"T and the platform includes an etched stainless steel nameplate with the Fairfax County seal, department and truck name.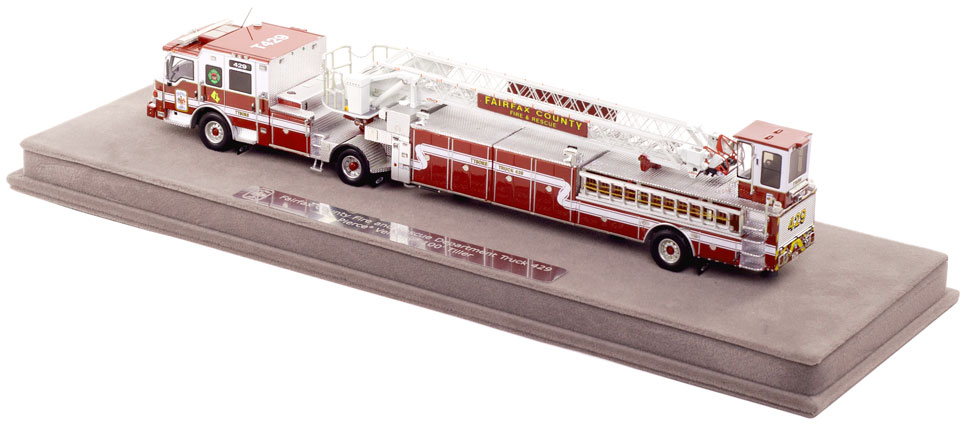 Details & Specifications
Scale: 1:50
Production Quantity: 350
Number of Individual Parts: 587
Multi-materials including High Def Resin, wire, stainless steel, rubber and other composites.
Mounted inside high quality, custom display case featuring etched stainless steel I.D. nameplate.
Functionality includes rolling wheels and pivoting 5th wheel.
Model Dimensions: 14.5"L x 2.5"W x 3"T
Display Case Dimensions: 18"L x 6"W x 5.25"T
Safety Warning
This is not a toy and not suitable for children under the age of 14. This highly detailed scale model contains small, intricate pieces that may present a choking hazard.